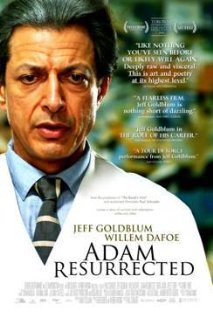 See the film adapted from the controversial 1968 novel by noted Israeli author, Yoram Kaniuk, and directed by Paul Schrader. Adam Resurrected follows Adam Stein, a once famous European clown and now an unhinged patient in an Israeli mental institution. With performances by Jeff Goldblum, Willem Dafoe, Derek Jacobi and Ayelet Zurer.
Adam Resurrected (USA, 106 min)
Dir. Paul Schrader
Writers Yoram Kaniuk (novel), Noah Stollman (screenplay)
Followed by a 15′ video introduction by author Yoram Kaniuk. 
Presented by Doe-Moffitt Judaica Collection 
This Event is in conjunction with BookFest 2012.