Magnes by The Marsh: Yehuda Hyman's THE MAD 7
Sep 15, 2011 @ 1:00 pm

-

Sep 18, 2011 @ 7:00 am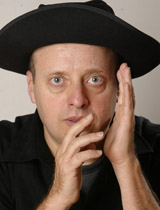 To kick off the new program series, Magnes by The Marsh,
The Magnes Collection and The Marsh Theater are proud to present:
Yehuda Hyman
THE MAD 7: A Mystical Comedy with Ecstatic Dance
September 15, 17 & 18 Only!
The Marsh Berkeley

Thursday at 8pm
Saturday at 8:30pm
Sunday at 2pm
For tickets, visit www.themarsh.org or call 415-282-3055
Magnes by The Marsh is co-sponosored by Marianne and Herb Friedman
Written and performed by Yehuda Hyman

Directed by Mara Isaacs

Adapted from a tale by Rabbi Nachman of Breslov

1 hour 40 minutes
one intermission

All seating for this performance is first-come, first-served.

This show has no age limit but not recommended for under 7 years old.

Please do not bring infants to the show.

The Marsh Berkeley TheaterStage

"Hyman's one-man performance piece transports the Orthodoxy of that Hasidic tale to secular America…his transformations reveal the essence of character in simple choreographic strokes." – The Jerusalem Post

Yehuda Hyman is a playwright, actor, poet, choreographer and dancer whose work explores the intersection of theater, dance, poetry, myth and mysticism. He will perform The Mad 7, a modern-day riff on The Seven Beggars, a Jewish folktale written more than two centuries ago by Rabbi Nachman of Breslov. Written by Hyman and directed by Mara Isaacs, The Mad 7 tells the epic tale of Elliott Green, a San Francisco office drone turned reluctant hero who embarks on a strange and mystical quest.  Through music, dance and uniquely personal storytelling, Hyman offers a hilarious, offbeat and moving story of spiritual awakening and self-discovery.

The Marsh is thrilled that, after being part of the inception of Yehuda Hyman's development of The Mad 7, we now have the opportunity to present this grand piece in its final glory. Originally developed at the Rhodopi Theatre Institute in Bulgaria, it premiered at the McCarter Theatre in Princeton NJ in 2008 and last year played to sold-out houses and rave reviews at the NY International Fringe Festival. It arrives in San Francisco fresh from performances at USC.

  "There's a specific tradition of Hasidic storytelling," says Hyman." they're very, very simple stories—almost childlike, fairy-tale stories—but they contain secrets. They contain transformative secrets. And that is the reason for them." 
For tickets, visit www.themarsh.org or call 415-282-3055.