As Berkeley's official open house, Cal Week is where the entire Berkeley campus community devotes time to engage with our newly admitted students. The Magnes Collection of Jewish Art and Life has several opportunities for incoming students to learn more about us, including a curatorial conversation from our Zooming In series, student profiles and testimonials from our undergraduate research apprentices, and links to explore The Magnes virtually.
STUDENTS AND THE MAGNES COLLECTION
The Magnes partners with UC Berkeley's Undergraduate Research Apprenticeship Program (URAP) to provide opportunities for Cal students to work with faculty on our world-renowned research projects. As a URAP student at The Magnes, you will work closely with Curator and Professor Francesco Spagnolo and Assistant Curator Shir Gal Kochavi to deepen your knowledge and skills in areas of special interest, while experiencing what it means to be a part of an intellectual community engaged in research.
"As well as being the meaningful, historical connection to my Jewish heritage… the apprenticeship has really introduced me to various museum practices and techniques concerning collection cataloging, researching and fact-checking." – Ana UC Berkeley Sophomore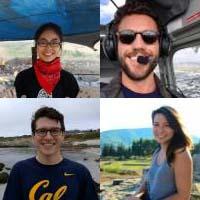 With student research apprentices and assistants from a wide variety of majors including Political Science, Comparative Literature, Environmental Science, Pre-Med, History, Business and Computer Science, The Magnes offers an experience that enriches the broad range of studies at UC Berkeley.
The Magnes: A Student Manifesto
Lauren Cooper BA '16 reconstructs her work at The Magnes over the years, and offers a veritable student manifesto describing what it means to work and explore, week after week, the wonders of one of the great Jewish museum collections in the context of a research university
"Francesco and Shir really make research a creative and imaginative endeavor and I feel super grateful to have both of them as mentors" – Kayla UC Berkeley Junior
EXHIBITIONS, PROGRAMS, AND COLLECTIONS AT THE MAGNES
---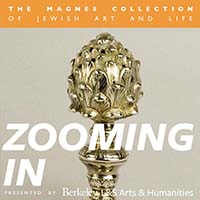 Join us Friday of Cal Week for Zooming In: I-Tal-Yah: An Island of Divine Dew. Italian Crossroads in Jewish Culture, as our curators reflect on the Fall, 2016 exhibition I-Tal-Yah, and highlights how it will be revisited, along with other Magnes exhibitions from the last decade in the context of Time Capsules, a new exhibition opening to the public in the Fall.
Friday, April 30, 2021 | Noon-12:30 pm | Zoom Registration Closed
The Magnes Collection Database
The Magnes Collection of Jewish Art and Life is today one of the world's preeminent Jewish collections in a university setting. A unique "library of objects," the Magnes is distinctively positioned to make Jewish art and material culture available to researchers through an innovative approach to collection access and display. The variety of its holdings and the design of its facilities enhance the university's academic offerings, enabling an unprecedented view of Jewish and host cultures in the Global Diaspora.
The exhibitions of The Magnes highlight the treasures of one of the world's preeminent Jewish museum collections. By combining museum practice, research, and instruction, they present to the public the results of engaging collaborative projects led by UC Berkeley faculty, students, visiting scholars, artists, and curators.
THE MAGNES ON SOCIAL MEDIA