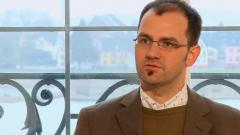 The Department of Slavic Languages & Literatures, the Institute for Slavic, East European and Eurasian Studies, the Institute for European Studies, and the Jewish Studies Program at UC Berkeley are proud to present:
Michael Hagemeister
Universität Basel
AN APOCALYPSE OF OUR TIME:
SERGEI NILUS AND THE "PROTOCOLS OF THE ELDERS OF ZION"
Monday, September 19, 2011 4:00 PM Dwinelle 370
When it comes to the origins and dissemination of the Protocols of the Elders of Zion, an infamous text describing a Jewish conspiracy for achieving global domination — we are regularly served up stories (by yellow press, serious newspapers, rumor, The Da Vinci Code, and at least one graphic novel) that have little to do with history. Michael Hagemeister, a historian who works on the Protocols and its first publisher (the mysterious Russian, Sergei Nilus), will speak at Berkeley about this story and about his current research.
Please contact issa@berkeley.edu or 510-642-2979 with questions.