PopUp Exhibition | Yiddish on Opposite Sides of the Atlantic
Mar 11, 2015 @ 5:00 am

-

6:00 am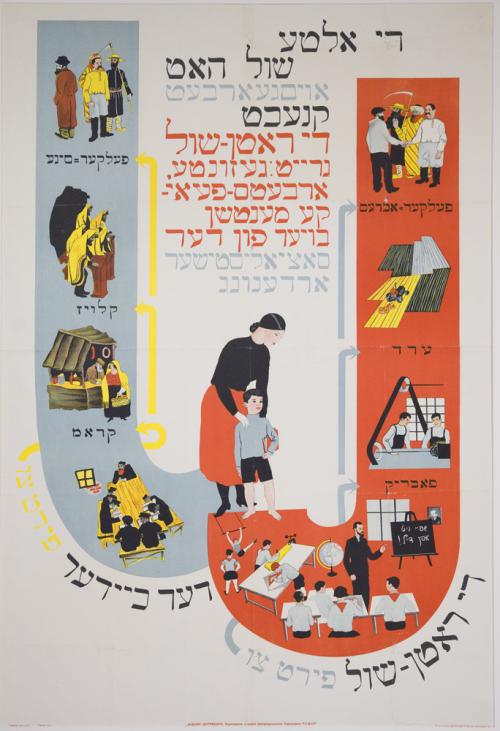 Dr. Yael Chaver teaches Yiddish language and literature at Berkeley. Her presentation will tell a story of Yiddish linguistic development that contrasts the cultural context of Soviet Russia, with that of the Yiddish-speaking immigrants in New York on opposite sides of the Atlantic in the 1920s. Posters and grammar books from the Magnes will serve as anchors for this comparative overview.
Amongst the treasures of the Magnes we find a Soviet Yiddish poster from the 1920s, with striking imagery and typography that captures official efforts to Sovietize Jews. The poster contrasts the benefits to a Jewish child attending a government school, versus the traditional Jewish cheder (religious school). Dr. Chaver's presentation will compare the use of imagery and language in the Soviet poster with those presented in a Yiddish children's textbook published in New York in 1926. This textbook exemplifies a vastly different approach to Jewish education, based on traditional principles while also introducing elements of American culture.
Thus, the central theme of Dr. Chaver's talk will be the role of language and imagery in early 20th-century Jewish cultural ideologies.

.
---
About the PopUp Exhibition Series
Each week, UC Berkeley faculty and students, visiting artists and other notable guests present brief lectures focused on selected treasures from the The Magnes Collection of Jewish Art and Life. One speaker and one object at the time, these "flash" exhibitions include the opportunity to view the art and artifacts discussed intimately and up close.
Bring your own lunch, enjoy complimentary refreshments, and take part in an exciting learning program, free and open to the public. Close-up view of collections included.
The Magnes Auditorium
2121 Allston Way, Wednesdays Noon-1 pm
Presentation begins promptly at 12:15 pm
SPRING SCHEDULE 2015
January 28; February 4, 11, 18, 25; March 4, 11, 18;  April 1, 15, 22, 29; May 6.
No lecture on March 25th (Spring Break) and April 8th (Passover).
Check The Magnes calendar and our Facebook page for updates