PopUp Exhibition | Hats Off: Cultures of Jewish Resistance on the Far Side of Civil Rights
Mar 4, 2015 @ 4:00 am

-

5:00 am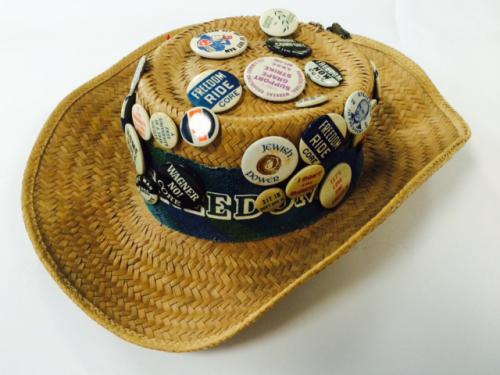 The hat of activist Carol Ruth Silver — and the political buttons that adorn it — is the point of departure for this PopUp Exhibition on Jewish participation in the Civil Rights movement. Carol Silver was the first white Freedom Rider to be jailed (1961). Her letters to her mother and the typescript of the diary she kept while spending 40 days in jail in Jackson, Mississippi form the core of the Magnes's holdings and they were published by the University Press of Mississippi in 2014. After earning a law degree from the University of Chicago (1964) she served on the San Francisco Board of Supervisors (1977-1989), and was a target in the Moscone-Milk shootings on November 27, 1978. Carol Silver's hat thus carries within it the history of Jewish participation in breaking the hold of the Jim Crow laws on African-Americans living in the South.
Keith P. Feldman, Assistant Professor of Ethnic Studies at Berkeley, will contextualize Silver's narrative within those of other Jewish activists on behalf of the Civil Rights movement. Professor Feldman is the author of A Shadow over Palestine: The Imperial Life of Race in America (University of Minnesota Press, 2015).
---
About the PopUp Exhibition Series
Each week, UC Berkeley faculty and students, visiting artists and other notable guests present brief lectures focused on selected treasures from the The Magnes Collection of Jewish Art and Life. One speaker and one object at the time, these "flash" exhibitions include the opportunity to view the art and artifacts discussed intimately and up close.
Bring your own lunch, enjoy complimentary refreshments, and take part in an exciting learning program, free and open to the public. Close-up view of collections included.
The Magnes Auditorium
2121 Allston Way, Wednesdays Noon-1 pm
Presentation begins promptly at 12:15 pm
SPRING SCHEDULE 2015
January 28; February 4, 11, 18, 25; March 4, 11, 18;  April 1, 15, 22, 29; May 6.
No lecture on March 25th (Spring Break) and April 8th (Passover).
Check The Magnes calendar and our Facebook page for updates