PopUp Exhibition: Elizabeth Rynecki on Moshe Rynecki's Lost Art Legacy
Feb 15, 2017 @ 12:00 pm

-

1:00 pm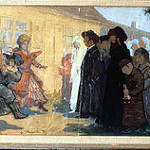 Elizabeth Rynecki is the great-granddaughter of the late Polish-Jewish artist, Moshe Rynecki (1881-1943), who perished in the Holocaust. Her memoir, Chasing Portraits: A Great-Granddaughter's Quest for Her Lost Art Legacy, was published in 2016 and immediately reviewed in the New York Times. For many years after his death, Moshe Rynecki's family believed that most of his oeuvre—circa eight hundred paintings and sculptures depicting the lives of the Polish-Jewish community—had been lost. After her grandfather (Moshe's son) passed away, Elizabeth made it her mission to revive her great-grandfather's legacy and to track and reconstitute many of his lost works around the world. The Magnes Collection of Jewish Art and Life at the University of California, Berkeley, is one of the few public collections in the world to include a painting by Moshe Rynecki, Wedding (The Gift of Bread), 1919, donated by George Rynecki in 1984.
Elizabeth Rynecki holds a BA in Rhetoric from Bates College and a master's degree in Rhetoric and Speech Communications from UC Davis. She is currently working on a documentary based on her memoir. Her website is chasingportraits.org.
Each week, UC Berkeley faculty and graduate students, visiting artists and other notable guests will present brief lectures focused on selected treasures from the The Magnes Collection of Jewish Art and Life. One speaker and one object at a time, these "flash" exhibitions will include the opportunity to view the art and artifacts discussed intimately and up close.
Bring your own lunch, enjoy complimentary refreshments, and take part in an exciting learning program, free and open to the public. Close-up view of collections included.
SPRING 2017 SCHEDULE
February 15, 22; March 1, 8, 15, 22, 29; April 5, 19, 26
No lecture on April 12 (Passover)
Check The Magnes calendar and Facebook page for updates