PopUp Exhibition | Brett Lockspeiser on Moses Mendelssohn's Digital Library
Mar 9, 2016 @ 12:00 pm

-

1:00 pm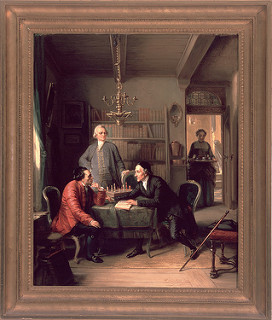 What can a 19th century painting of a library scene teach us about the problems and opportunities of building a new digital library? What's changed since 1856? What hasn't? In this talk, Brett Lockspeiser will use Oppenheim's painting of Mendelssohn's library as a springboard to explore questions around what a new digital library can and should be. Throughout the talk Brett will demo from the newly redesigned and soon to be launched Sefaria website. Sefaria is the largest free database of Jewish texts, translations and interconnections which is available for free for researches and developers to build upon
Presented in conjunction with the exhibition, From Mendelssohn To Mendelssohn.
---
About the PopUp Exhibition Series
Each week, UC Berkeley faculty and students, visiting artists and other notable guests present brief lectures focused on selected treasures from the The Magnes Collection of Jewish Art and Life. One speaker and one object at the time, these "flash" exhibitions include the opportunity to view the art and artifacts discussed intimately and up close.
Bring your own lunch, enjoy complimentary refreshments, and take part in an exciting learning program, free and open to the public. Close-up view of collections included.
The Magnes Auditorium
2121 Allston Way, Wednesdays Noon-1 pm
Presentation begins promptly at 12:15 pm
SPRING SCHEDULE 2016
February 10, 17, 24; March 2, 9, 16, 30; April 6, 13, 20, 27
No lectures on March 23rd (Spring Recess) and May 4 (Yom Ha-Shoah)