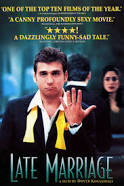 Late Marriage (Israel, 2001,102 minutes)
Zaza (Lior Louie Ashkenazi) is an eligible 31-year-old bachelor who has done his best to remain unattached. His traditional Georgian-Jewish family is growing impatient, however, and they aggressively join forces to choose a young bride for him, with the stipulation that she be a virgin.
Reception included. Free and open to the public. RSVP at bit.ly/latemarriage.
---
A year-long series on Israeli cinema, co-presented by the Berkeley Institute for Jewish Law and Israel Studies and The Magnes Collection of Jewish Art and Life. In the fall, the screenings will be devoted to a retrospective of Ronit Elkabetz (1964-2016), an actress famous for her cinematic roles portraying the experience of Mizrachi Jewish women in Israeli society and on the Israeli screen. In the spring, the series will move thematically through key moments in Israeli history, society, and culture to examine the potential of Israeli cinema to tug at the intersections of art and society.