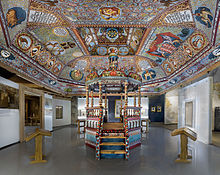 Curating Culture, Making Memory: On the Polin Museum of the History of Polish Jews
11 a.m.-6 p.m., April 3
A day of film and lectures highlighting the Polin Museum located in Warszawa and Jewish history in Poland.
11 a.m.-12:30 p.m. "Raise the Roof," 2015. 85 minutes. Landmark Shattuck Theater, 2230 Shattuck Ave., Berkeley.  A documentary by Yari and Cary Wolinsky about how artists Rick and Laura Brown and their team at Handhouse Studio set out to rebuild Gwoździec, one of the 18th-century wooden synagogues of Poland, the last of which were destroyed by Nazis during World War II. RSVP here for the film.
1:45-6 p.m. Talks and evening reception will be held at The Magnes Collection of Jewish Art and Life, 2121 Allston Way, Berkeley. RSVP here for the afternoon lectures and reception.
1:45 p.m. "Making / History: The Wooden Synagogue Replication Project" by Rick and Laura Brown; Lori Starr, respondent. Using images and video clips, Rick and Laura Brown of Handhouse Studio will describe the ten-year project of reconstructing Gwoździec.
 3 p.m. "The Jewish Museum Effect" by Jeffrey Shandler; Francesco Spagnolo, respondent. Jeffrey Shandler will look at how Jewish museum practices have become fixtures of contemporary Jewish life, using examples in the United States, Europe and elsewhere.



4:15 p.m. "Materializing History: Presenting the History of Polish Jews" by Barbara Kirshenblatt-Gimblett.
5:15 p.m. Reception
Free and open to the public.