Shared History Project: 1700 Years of Jewish Life in German-Speaking Lands
Leo Baeck Institute Traveling Exhibition
On View:
Sep 14, 2022 - Dec 14, 2022
Location:
The Magnes Collection of Jewish Art and Life
2121 Allston Way | Berkeley , CA
The Magnes
Gallery Hours:
Wednesdays, 11am-4pm
The year 2021 marks the 1700th anniversary of the earliest document that mentions a Jewish community north of the Alps – an edict issued by Emperor Constantine of Rome permitting the Cologne city councilors to oblige Jews to hold public office.
The Shared History Project explores this history using 58 artifacts from over 50 different archives and museums, which are presented and discussed in historical essays and personal stories written by more than 60 scholars, archivists, and museum experts. From Constantine's edict to Moses Mendelssohn's glasses to a pendant found in the ruins of the Sobibór death camp to the Jewish Museum Berlin, these objects illuminate multiple aspects of Jewish life in German lands over the centuries.
Throughout history, Jews and other minorities have been in a constant struggle for rights, recognition, and opportunities to participate in the larger society while maintaining their own group identities. Studying this history is essential today as countries across the globe face radical ideologies that threaten cultural and social diversity. Understanding how a civil society protects and supports everyone, regardless of religion, culture, or country of origin is critical to the future.
Shedding light on the long history of Jewish life in German-speaking areas and presenting German-Jewish voices that have shaped this rich cultural heritage over the centuries, the Shared History Project communicates important messages about migration, acceptance, inclusion, acculturation, prejudice, exclusion, persecution, success, and resilience in order to make an important contribution against ignorance, increasing distortion of history and growing antisemitism with the help of historical facts and dissemination of knowledge.
Jewish life in the Diaspora is characterized by a deep interwovenness with the cultural, political, and economic life of the countries where Jews live, especially in central Europe. Of course, these have never been simple relationships. The interactions between Jewish communities and the dominant culture are as likely to be characterized by conflict, exclusion, or persecution as by cooperation, exchange, or solidarity. Collectively, the stories told by the objects in the Shared History Project will illustrate themes that pluralistic societies are still grappling with today—migration, inclusion, exclusion, success, and persecution.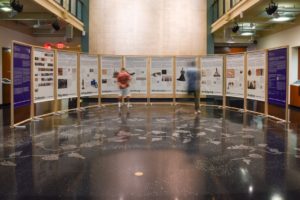 In place of a chronological approach, this exhibit uses selected objects to examine themes – including migration, everyday life, acculturation, achievement, and persecution – that come up at various times through the centuries.
Once an object is revealed along with its provenance, historical essay, and personal story, it is accessible on the website through a timeline, a map, and a simulated exhibit that allows the user to explore the exhibit in a virtual, three-dimensional space.
We hope that the complex picture that emerges will illuminate both the challenges faced by minority communities and the enriching potential of diversity.
About Leo Baeck Institute
The Leo Baeck Institute – New York | Berlin is a research library and archive focused on the history of German-speaking Jews.
Its extensive library, archival, and art collections comprise one of the most significant repositories of primary source material and scholarship on the centuries of Jewish life in Central Europe before the Holocaust. LBI is committed to preserving and expanding access to this rich body of material, and it has digitized millions of pages of documents, books, and artworks from its collections—from rare Renaissance-era books to the personal correspondence of luminaries and ordinary people alike. LBI also promotes the study and understanding of German-Jewish history through its public programs, exhibitions, and support for scholars.
The Shared History Project was initiated by the Leo Baeck Institute – New York | Berlin (LBI) and supported by #2021JLID – Jüdisches Leben in Deutschland e.V. with funding from the Federal Ministry of the Interior, Building and Community (BMI).