The Magnes Collection of Jewish Art and Life is located at 2121 Allston Way in downtown Berkeley, just outside the UC Berkeley Campus, within walking distance from BART and several parking facilities.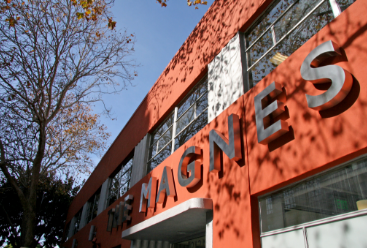 The Magnes Collection of Jewish Art and Life
2121 Allston Way
Berkeley, CA 94270-6300
510-543-2526
BUSES
The following bus lines stop in Downtown Berkeley: AC Transit Bus lines including 6, 7, 18, 51B, 52, 65, 67, 79, 88, 800, 851, and F Bear Transit: C, P, RFS
FROM I-80 (San Francisco and Marin)
Take the University Ave. exit in Berkeley
Turn right on University and continue 0.9 miles
Turn right on Shattuck Ave.
Turn left on Allston Way.
FROM CONTRA COSTA / CA-24 WEST
Take Exit 5B, merge onto CA-13 N to Berkeley.
Head down Tunnel Road; continue onto Ashby.
Turn right onto Shattuck; continue for 1 mile.
Take a right onto Allston Way.
Parking is available at Oxford Garage, directly across the street. Enter on 2161 at Kittredge Street between Oxford and Shattuck. There are many other off-campus parking options near The Magnes, listed on this page.
Parking is cheaper and more available the farther you park from campus, and sometimes it's only a block or two away. Visit City of Berkeley Parking Lots for detailed information about city parking lots and garages.
There are a number of public parking lots and facilities near campus and in downtown Berkeley. This list includes municipal and privately owned parking lots and garages open to the public. Please consult signs for hours and fees prior to entering the facilities.
There is street and metered parking near the University, but be diligent about reading parking restrictions, as the regulations and schedules are strictly enforced by the City of Berkeley.
[xyz-ips snippet="Add-to-any"]