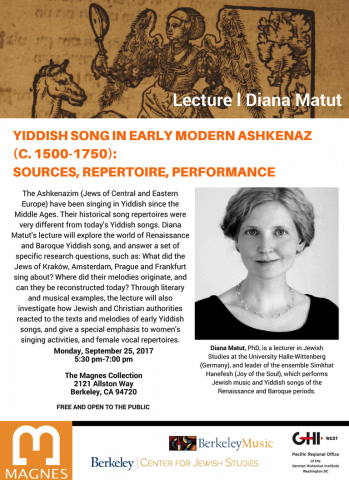 The Ashkenazim (Jews of Central and Eastern Europe) have been singing in Yiddish since the Middle Ages. Their historical song repertoires were very different from today's Yiddish songs. Diana Matut's lecture will explore the world of Renaissance and Baroque Yiddish song, and answer a set of specific research questions, such as: What did the Jews of Kraków, Amsterdam, Prague and Frankfurt sing about? Where did their melodies originate, and can they be reconstructed today? Through literary and musical examples, the lecture will also investigate how Jewish and Christian authorities reacted to the texts and melodies of early Yiddish songs, and give a special emphasis to women's singing activities, and female vocal repertoires.
Diana Matut, PhD, is a lecturer in Jewish Studies at the University Halle-Wittenberg (Germany). After studying Jewish and Semitic Studies at Halle, she earned a Diploma in Hebrew and Jewish Studies at Oxford University, followed by an MA in Yiddish Studies at SOAS, London. She participated in the Advanced Seminar for Yiddish Studies at JTS – taught in Yiddish. Today, Diana regularly teaches and lectures at universities in Europe and in Israel.
Outside of her academic career, Diana is a singer and leader of the band Simkhat Hanefesh (Joy of the Soul), which performs Jewish music and Yiddish songs of the Renaissance and Baroque period. She teaches old Yiddish song and children's song workshops at Yiddish Summer Weimar and Klekanada and has produced several CDs (e.g. Far dem nayem dor – For the New Generation; simkhat hanefesh – Early Yiddish Music). www.simkhat-hanefesh.com and http://yiddishsummer.eu/de/.
---
Lecture by Dr. Diana Matut on Yiddish Song in Early Modern Ashkenaz (c. 1500-1750)- Sources, Repertoire, Pe… by magnesmuseum on Scribd