Sholem Aleichem on the South Side of Chicago: The Story and Songs of the Rediscovered 1905 Musical Stempenyu
Oct 15, 2018 @ 12:00 pm

-

1:00 pm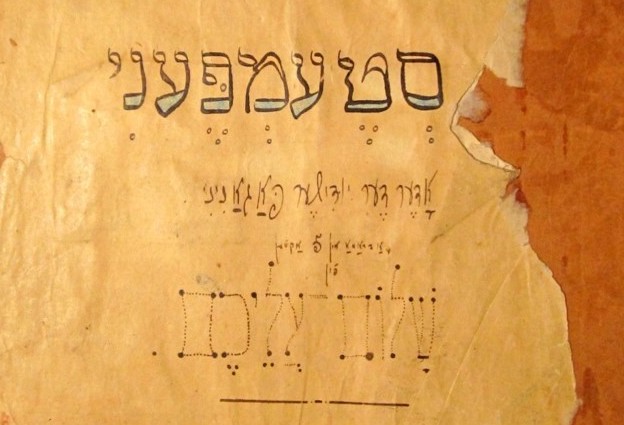 This event is free and open to the public
Please RSVP here
In June of 1905, Sholem Aleichem—author of the Tevye Stories—met in Warsaw with theater producers Spivakovsky and Adler, and agreed to pen adaptations of his fiction works for theatrical production on stages throughout the Russian Empire. Only a few months later, caught in the anti-Jewish violence that accompanied the outbreak of the 1905 Revolution, Sholem Aleichem quickly made plans to flee Russia with his family. He sent his newly adapted musical of Stempenyu, a novella about the handsome klezmer Stempenyu and his love for the beautiful and married Rokhele, to New York, where it was rejected as being far too traditional for a US audience. A later version of the play, rewritten for the American stage by director Tomashevsky, opened in New York in 1907, to less than rave reviews.
Forgotten and never staged, the author's original handwritten Yiddish manuscript of Stempenyu turned up over a century later in the basement of a home slated for demolition in Chicago's once-Jewish South Shore neighborhood. In this program we tell the story of the manuscript's reemergence, and bring to life the author's original Stempenyu – the story of a community bound by language, tradition and music – with songs and instrumental pieces from the original musical production that Sholem Aleichem intended for the Russian stage.
---
Karen Underhill is Assistant Professor of Polish Literature and Polish Jewish Studies at the University of Illinois at Chicago. Her research at the intersection of Polish and Jewish cultures and literatures focuses on Polish and Yiddish modernisms; Bruno Schulz and Galician Jewish culture in the interwar period; and changing narratives of Poland as a multilingual and pluralist space of encounter. She received her PhD in Polish and Jewish Studies at the University of Chicago, was Joseph Kremen Memorial Fellow at the YIVO Institute for Jewish Research, where she conducted research into the Stempenyu manuscript; and is co-founder of Massolit Books & Cafe in Kraków. She has designed Jewish heritage educational programs and teacher training workshops for the Taube Center for the Renewal of Jewish Life in Poland, as well as study tour resources for Taube Jewish Heritage Tours, and she continues to lecture in Poland during the summers on Jewish culture and history of Poland.
Sharon Bernstein is a singer, pianist, composer, and Cantor, exploring resonances between text, image and music, inner and outer, friend and stranger, tradition and innovation. Her work is built on rhythms, melodies, and harmonies from across the Jewish spectrum, including Yiddish songs, Hassidic niggunim, Italian Jewish musical traditions, and original compositions and arrangements.  She has presented her rare Yiddish repertoire in concerts around the world, often in a "piano bar" version with a shtikl herring and a glezele vodka by candle light. Bernstein has been featured in film, television, radio, and print in the U.S., Israel, and Europe. Publications and recordings include Af Di Gasn Fun Der Shtot-On the streets of the city, a collection of new Yiddish songs by Beyle Schaechter-Gottesman, the book and CD healing journey Under the Wings of Rafa'el, Transcontinental Music's Shabbat Anthology VIII, and Adding Our Voices: The Torah of Jewish Women in Song. Since 2007, it has been her delight and honor to serve as the Cantor for Congregation Sha'ar Zahav of San Francisco.
Related Programs