PopUp Exhibition | Yosef Rosen on the Powers of Amulets
Mar 18, 2015 @ 12:00 pm

-

1:00 pm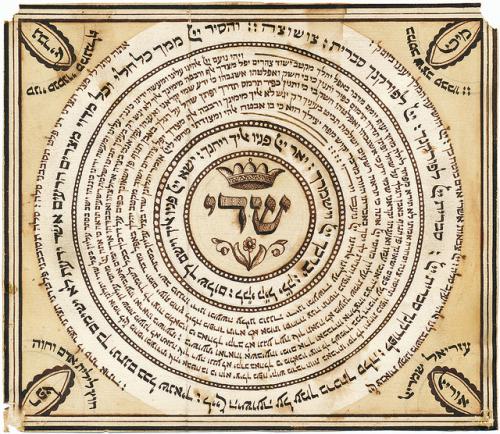 As objects engraved with magical formulas, amulets offer fascinating insight into the world of beliefs that informed them. The Magnes is fortunate to own a vast number of both paper and metal amulets, designed to protect the bearer from harm. Several amulets will be on display during this PopUp Exhibiton by Yosef Rosen, a Doctoral Candidate in Jewish Studies at Berkeley. The first – paper – amulet was created in India in the 19th century. It is meant to assist a woman's labors during pregnancy. This amulet is dedicated to members of the Sassoon family: Jews from Iraq who had settled in Mumbai and had established international banking and mercantile businesses. The second amulet is one for newborn children. It is fashioned out of metal and is inscribed with quotes from the Bible and mystical formulas varying the letters in the Tetragrammaton, as well as the figure of Lilith. This amulet originated in Iran in the 18th century. Finally the third amulet (paper, Italy, 18th century) was also fashioned to protect a newborn child, but it features Psalms 90 and 91 written in circular fashion around one of God's names.
All three of these amulets offer us a glimpse into the world of Jewish mysticism and the interplay of its double-entendres and hidden meanings. Join us for a lively discussion!
---
About the PopUp Exhibition Series
Each week, UC Berkeley faculty and students, visiting artists and other notable guests present brief lectures focused on selected treasures from the The Magnes Collection of Jewish Art and Life. One speaker and one object at the time, these "flash" exhibitions include the opportunity to view the art and artifacts discussed intimately and up close.
Bring your own lunch, enjoy complimentary refreshments, and take part in an exciting learning program, free and open to the public. Close-up view of collections included.
The Magnes Auditorium
2121 Allston Way, Wednesdays Noon-1 pm
Presentation begins promptly at 12:15 pm
SPRING SCHEDULE 2015
January 28; February 4, 11, 18, 25; March 4, 11, 18;  April 1, 15, 22, 29; May 6.
No lecture on March 25th (Spring Break) and April 8th (Passover).
Check The Magnes calendar and our Facebook page for updates