PopUp Exhibition | Anna Bella Korbatov and Zoe Lewin on Jewish Postcards Primary tabs
Dec 10, 2014 @ 4:00 am

-

5:00 am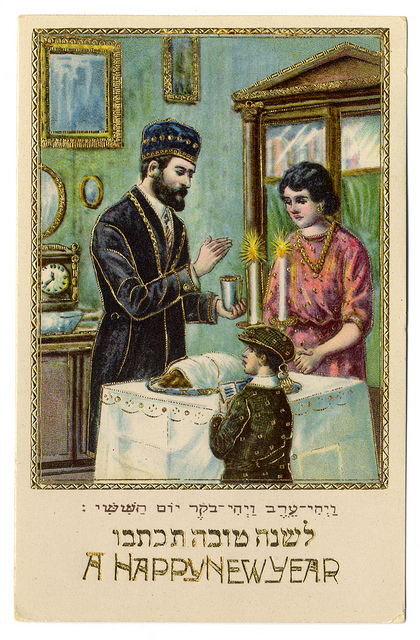 In how many ways can a postcard be Jewish? According to Anna Bella Korbatov and Zoe Lewin, a dynamic team of Undergraduate Research Apprentices working at the Magnes, postcards can be convey a Jewish message in a variety of ways. They can appeal to the sender's or receiver's nostalgia through depictions of famous European synagogues in Prague or in Berlin; they can convey Yiddish folksongs and Chassidic tunes in singable form. Postcards can also evoke a Zionist message centered on the development and modernization of Palestine prior to 1948; and finally they can appeal to spiritual values by showing Jewish rituals in an idealized setting. Though mass-produced and a product of the industrial era, the Jewish postcards in the Magnes Collection generally carry a personal message of belonging and community. The two presenters have been working to make that personal message accessible to an online audience through tools such as Findery and Flickr. Join them as they discuss their work!
---
About the PopUp Exhibition Series
Each week, UC Berkeley faculty and students, visiting artists and other notable guests present brief lectures focused on selected treasures from the The Magnes Collection of Jewish Art and Life. One speaker and one object at the time, these "flash" exhibitions include the opportunity to view the art and artifacts discussed intimately and up close.
Bring your own lunch, enjoy complimentary refreshments, and take part in an exciting learning program, free and open to the public. Close-up view of collections included.
The Magnes Auditorium
2121 Allston Way, Wednesdays Noon-1 pm
Presentation begins promptly at 12:15 pm
FALL SCHEDULE 2014
October 1, 8, 15, 29; November 5, 12, 19; December 3, 10, 17
Check The Magnes calendar and our Facebook page for updates