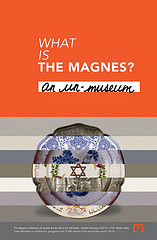 Homecoming Weekend is UC Berkeley's largest annual gathering welcoming thousands of alumni, parents, and students to campus for three days of fun. Festivities include alumni parties, family events, the Bear Affair BBQ, faculty seminars, campus tours, museum and library open houses, the Homecoming football game, and more.
The Magnes Collection of Jewish Art and Life marks this special weekend by opening its galleries to the public, free of charge, on Friday, Saturday, and Sunday, October 10-12, from 11 AM until 4 PM. All the exhibitions will be on view, and gallery and behind-the-scenes tours will be offered at 11:30 AM and at 2:30 PM by our staff.
Find out more about Homecoming Weekend at homecoming.berkeley.edu.