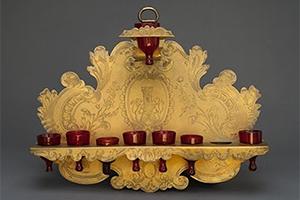 From our series, "Zooming In: Weekly Curatorial Conversations from The Magnes Collection of Jewish Art and Life."
Each week, Curators Francesco Spagnolo and Shir Kochavi present insights and connections emerging from the holdings of UC Berkeley's Magnes Collection, one of the largest Jewish museum collections in the world. Throughout the series, guests will join them to explore Jewish art and life, one object at a time.
Bringing the Light!
On the occasion of Hanukkah, we are partnering with the Bay Area's six Jewish Community Centers to bring you the light from the 200 Hanukkah lamps in The Magnes Collection. We invite you to join us in discovering the culturally rich stories of these unique lamps collected from Europe, North Africa, the Middle East, India, and the United States.
Register for this free online program here (free or licensed Zoom account required).
View the weekly schedule for the entire series.
Image:
Hanukkah lamp engraved with the emblem of the Della Torre family
Piedmont, Italy, 18th century
Brass
Judah L. Magnes Museum purchase, Siegried S. Strauss collection, 67.1.4.36 a-i