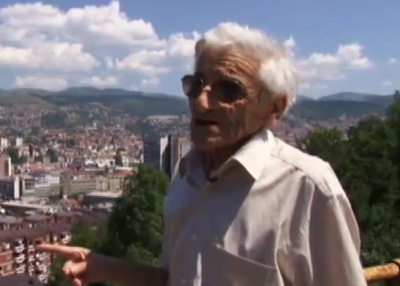 Saved by Language
Dir. Susanna Zaraysky and Bryan Kirschen. Documentary. USA, 2014. 53 min.
Saved by Language tells the story of Moris Albahari, a Sephardic Jew from Sarajevo (born 1930), who spoke Ladino (Judeo-Spanish), his mother tongue, to survive the Holocaust. Moris used Ladino to communicate with an Italian colonel who helped him escape to a partisan refuge after he ran away from a train taking Yugoslavian Jews to Nazi death camps. By speaking in Ladino to a Spanish-speaking US pilot in 1944, he was able to lead the pilot and other American and British soldiers, to a safe partisan airport.
---
About the Depth of Field Series
The term "Sephardic" indicates the descendants of the Iberian Jews who were expelled from Spain and Portugal (in Hebrew, sepharad) after 1492, and came into contact with cultures and languages from Northern and Southern Europe, the Balkans, and especially the Ottoman Empire—in North Africa and the Eastern Mediterranean—where their communities flourished for centuries. The complex identities of the Sephardic Jews are represented on screen through documentaries and feature films about the Spanish Inquisition and its aftermaths, the encounters between Ottoman, Arab-Andalusian, and European cultures, the Holocaust as a global phenomenon, and  the perseverance of culture the Judeo-Spanish (or Ladino) language.
FALL SCHEDULE 2015
 First Tuesday of the Month, 7 pm
October 6 ; November 3;  December 1
All screenings free and open to the public.