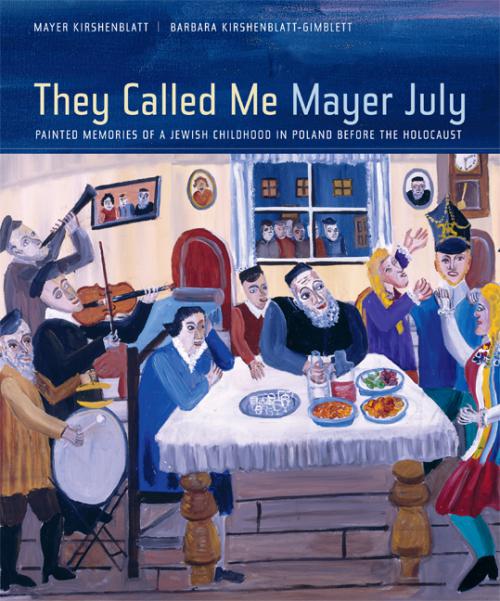 PAST EXHIBITION
They Called Me Mayer July: Painted Memories of a Jewish Childhood in Poland Before the Holocaust
They Called Me Mayer July is the result of a 40-year collaboration between Yiddish anthropologist, Barbara Kirshenblatt-Gimblett, and her father, Mayer Kirshenblatt. Mayer grew up in Apt, Poland, and immigrated to Toronto in 1934. Through conversations and interviews with his daughter, Mayer recreated in remarkable detail a Jewish life in a small Polish city before the Holocaust. In 1990, at the age of 74, Mayer taught himself to paint and has since been illustrating the stories of his hometown.

Image: Mayer Kirshenblatt, The Water Carrier, 1991 (Collection of the artist)
This exhibition includes more than 60 paintings that bring to life the characters, streets and domestic scenes of Apt, offering the children and grandchildren of Mayer's generation a chance to step into a vibrant world they can hardly imagine. The installation is enhanced by an audio commentary by Mayer and Barbara Kirshenblatt. A fully illustrated color companion book is available from the University of California Press.
This exhibition has been made possible through a grant from the Taube Foundation for Jewish Life and Culture and the generosity of Jean and Sandy Colen, Varda and Irving Rabin, and Katie and Amnon Rodan.
They Called Me Mayer July is being co-presented at the MAGNES with thanks to the Museum of Craft and Folk Art, San Francisco and the Holocaust Center of Northern California.
Taube Foundation for Jewish Life and Culture
Jean and Sandy Colen
Varda and Irving Rabin
Katie and Amnon Rodan
Taube Foundation for Jewish Life and Culture
Holocaust Center of Northern California
Museum of Craft and Folk Art