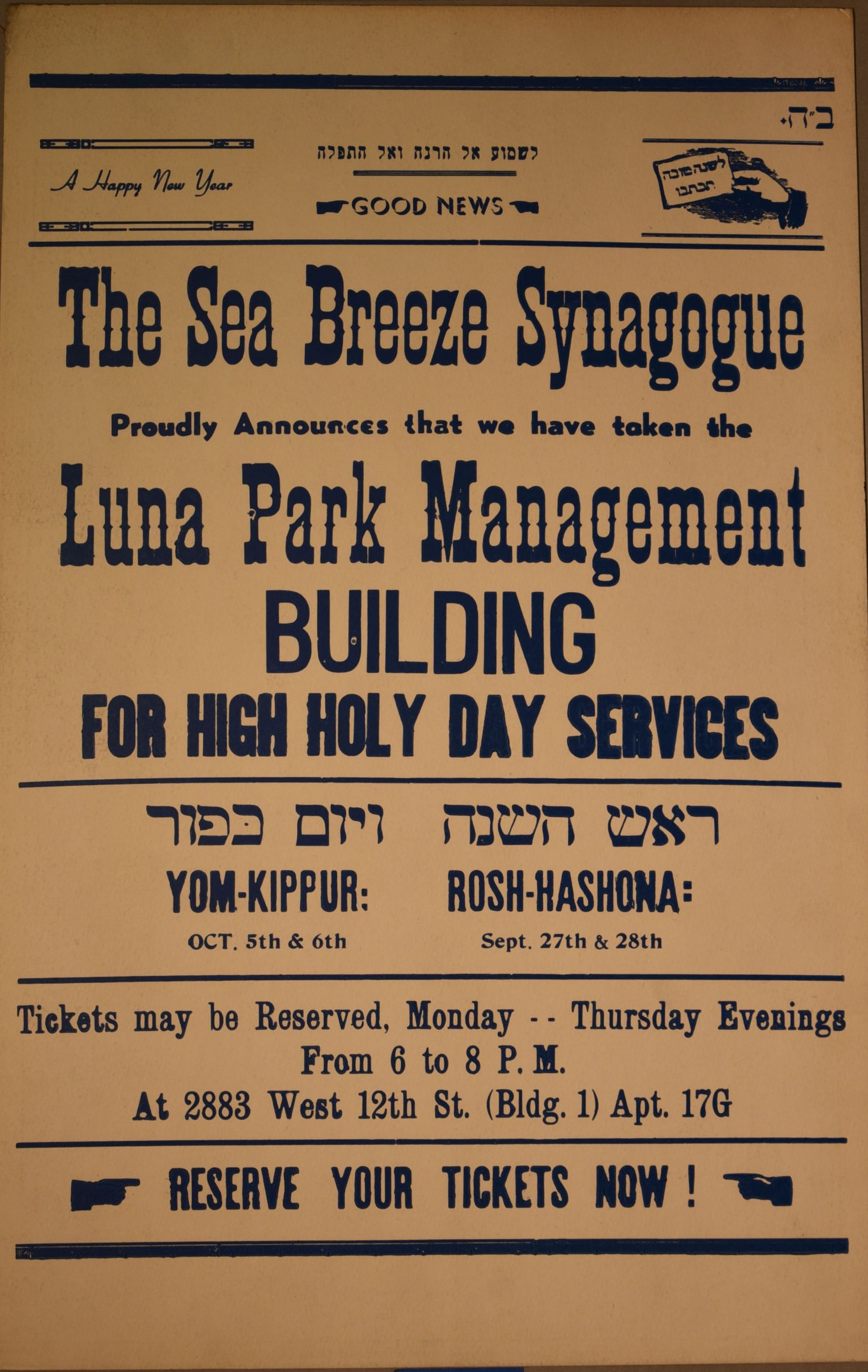 PAST EXHIBITION
High Holy Days at the Luna Park: Show-card Posters from the Firschein Press (Brooklyn, NY, 1920-1974)
On View:
Jan 23, 2018 - Jun 29, 2018
Location:
The Magnes Collection of Jewish Life and Art
2121 Allston Way | Berkeley , CA
The Magnes
Gallery Hours:
Every week, Tuesday-Friday, 11am-4pm, during the UC Berkeley Fall and Spring Semesters.
This exhibition presents a selection from the over one hundred "show-card" posters printed by the Firschein Press, a small business operated by East European Jewish immigrants, that served local Jewish and non-Jewish communities in Brooklyn for the better half of the 20th century. Oscar Firschein brought the posters to California once the Press ceased its activities. He and his wife, Theda, donated them to The Magnes in 2017.
In collecting and displaying these materials, The Magnes honors both history and the attempt to preserve it through its ephemera. Although these materials were not created to last through time, through their immediacy, they bring us closer to the past, and help us paint a vivid image of the intercultural exchanges that characterize 20th-century urban life in America.
Curators:
Shir Gal Kochavi, Zoe Lewin, Francesco Spagnolo
Registrars:
Julie Franklin and Kelin Verrette
Preparator:
Ernest Jolly
Marketing and Social Media:
Lisa Davis
Design:
Gordon Chun Desgin
Major funding ($100,000+) for The Magnes Collection comes from Karen and Franklin Dabby, the Walter & Elise Haas Fund, the Helzel Family Foundation, the Koret Foundation, Peachy and Mark (Z'l) Levy, Magnes Leadership Circle, Magnes Museum Foundation, the Office of the Chancellor at the University of California, Berkeley, Barbro and Bernard Osher, and Taube Philanthropies.