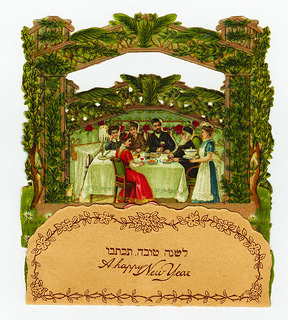 PAST EXHIBITION
Gourmet Ghettos: Modern Food Rituals
Case Study No. 5
On View:
Aug 28, 2014 - Jun 26, 2015
Location:
The Magnes Collection of Jewish Art and Life
2121 Allston Way | Berkeley , CA
The Magnes
Gallery Hours:
Tuesday-Friday, 11am-4pm
A new exhibition exploring eating, identity and activism in Jewish life and beyond.
For thousands of years, food rituals have been essential to constructing and maintaining Jewish identities throughout the diaspora. But the significance of these rituals might be more pervasive than we think. Gourmet Ghettos: Modern Food Rituals explores the broader linkages between food, ritual, identity, and activism that inform Jewish life. 

click on the image above to view a gallery of exhibition images
By highlighting over 150 objects from around the world, ranging from cookware, tableware, and kitchen textiles to books, manuscripts, paintings and drawings, this exhibition examines Jewish food rituals as meaningful frameworks with which to contextualize today's food movement, a phenomenon that is deeply embedded in Berkeley's history, a city with its own "gourmet ghetto" and powerful tradition of social justice.
– Francesco Spagnolo and India Mandelkern 
Gourmet Ghettos: Modern Food Rituals | Exhibition Catalog (2014)
Curators:
Dr. Francesco Spagnolo and India Mandelkern (PhD Candidate, History)
Contributing Scholar:
Dr. Yahil Zaban, Tel Aviv University, and Helen Diller Foundation postdoctoral fellow (2012-2014)
Registrars:
Julie Franklin, and Lorna Kirwan (Bancroft Library)
Research:
Gary Handman, Zoe Lewin (URAP), Christine Liu (URAP)
Design:
Gordon Chun Design
Press Release
Printed Catalog
Web Resources
Major support for The Magnes comes from the Hellman Family Foundation, Koret Foundation, Magnes Museum Foundation, Taube Philanthropies and Magnes Leadership Circle. Research for Gourmet Ghettos: Modern Food Rituals was made possible, in part, with funds provided by the Helen Fawcett Chair of the Department of History at UC Berkeley.