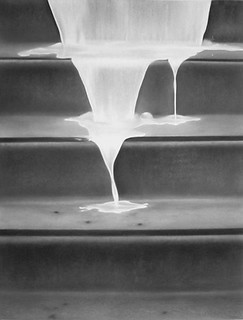 PAST EXHIBITION
Gale Antokal: The Spill
On View:
Jan 22, 2012 - Jun 29, 2012
Location:
The Magnes Collection of Jewish Art and Life, West Loby
2121 Allston Way | Berkeley , CA
The Magnes
Gallery Hours:
Wednesday-Sunday, 12:00-4:00 and Thursday 12:00-7:00
Gale Antokal draws with a mixture of volatile materials, such as chalk, powder, graphite, flour and ash. Using documentary photographs as source, she creates evocative new images.
The photos I use are now considered for their degradation and inability to be read. I enhance them making the image even more low contrast. There is a vagueness of vision and clarity. It describes a "failure of sight" on many levels. It also speaks of how the past is obscured.
The Spill, Antokal's project for the re-opening of The Magnes, is a departure from her usual technique. Based on drawings of milk pouring down a staircase from her series We Are So Lightly Here (2003-2006), she created an original film.
A Berkeley resident, Gale Antokal was born in New York. A recipient of a Visual Arts Fellowship from the National Endowment for the Arts, she is currently a Professor in the Department of Art and Art History at San Jose State University.
Cinematography: DC Spensley