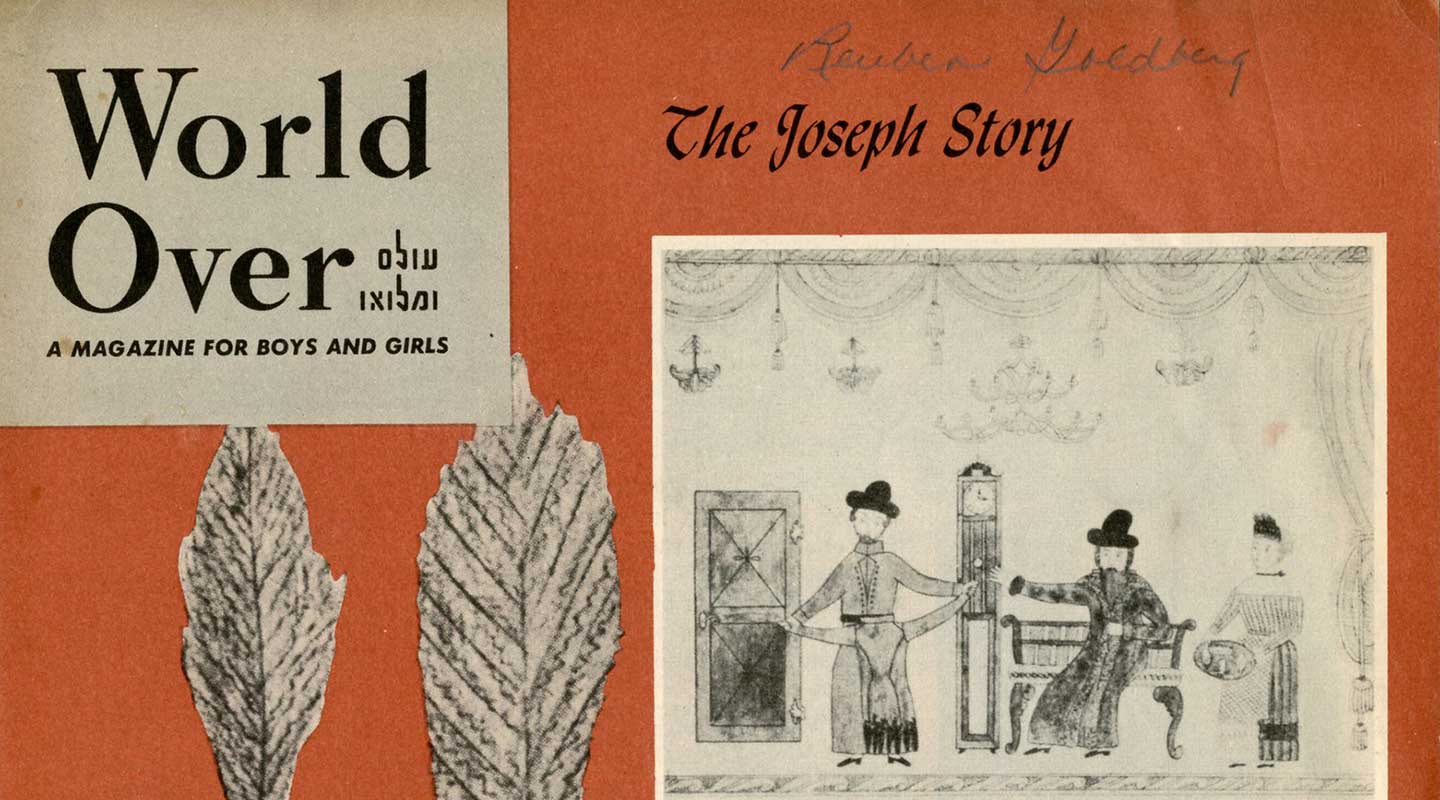 PAST EXHIBITION
By Design: American Jewish Education in the 'World Over' Cover Art (1946-1957)
On View:
Aug 30, 2016 - Dec 16, 2016
Location:
The Magnes Collection of Jewish Art and Life
2121 Allston Way | Berkeley , CA
The Magnes
Gallery Hours:
Tuesday-Friday, 11am-4pm
The World Over: A Magazine for Boys and Girls, published from 1940 until 1979 by the Board of Jewish Education in New York, was edited by Ezekiel Schloss, who also designed its cover art.
The magazine was issued "every other week from the end of October to the middle of May," following the school calendar. It offered select world news, short stories by major Jewish writers, information about cultural events and historical details about the Jewish communities in the global diaspora to Jewish school children in America. The publication's bilingual title also included the Hebrew idiomatic expression, 'olam u-melo'o, or "the whole world," thus signaling an alignment between mainstream Jewish education in the United States and the cultural agendas of the nascent State of Israel.
Ezekiel Schloss (1913-1987) was born in Latvia and immigrated to the United States in 1940. Together with his wife, Lillian, he was a pioneer collector of ancient Chinese sculptures, a subject on which he published a seminal volume. His political cartoons appeared in France-Amérique, The New Republic, and The Nation, and in 1959 he illustrated an often-reprinted Passover Haggadah, edited by the Conservative Rabbi, Morris Silverman (1894-1972). Anthologies of his artwork for the World Over were published in several volumes.
The Magnes holds twenty-five issues of the World Over, dating from 1946 until 1957. The contents of the magazine fully reflected its title. Articles and news items discussed the major historical events that characterized the decade, including the aftermaths of the Second World War, the influx of Jewish refugees into the United States, Israel's founding, and the anxieties of the McCarthy era, the Korean War, and the Cold War.
By mediating between Jewish life and the foundational aspects of American national identity, Ezekiel Schloss' cover art continues to resound as a prime example of intercultural dialogue. In every respect, the World Over acted as a Jewish handbook on becoming "American," outlining a cultural strategy that can be still felt today.
Francesco Spagnolo
Web Resources
Major support for The Magnes comes from the Helzel Family Foundation, the Magnes Museum Foundation, The Magnes Leadership Circle, and The Office of the Chancellor at the University of California, Berkeley.