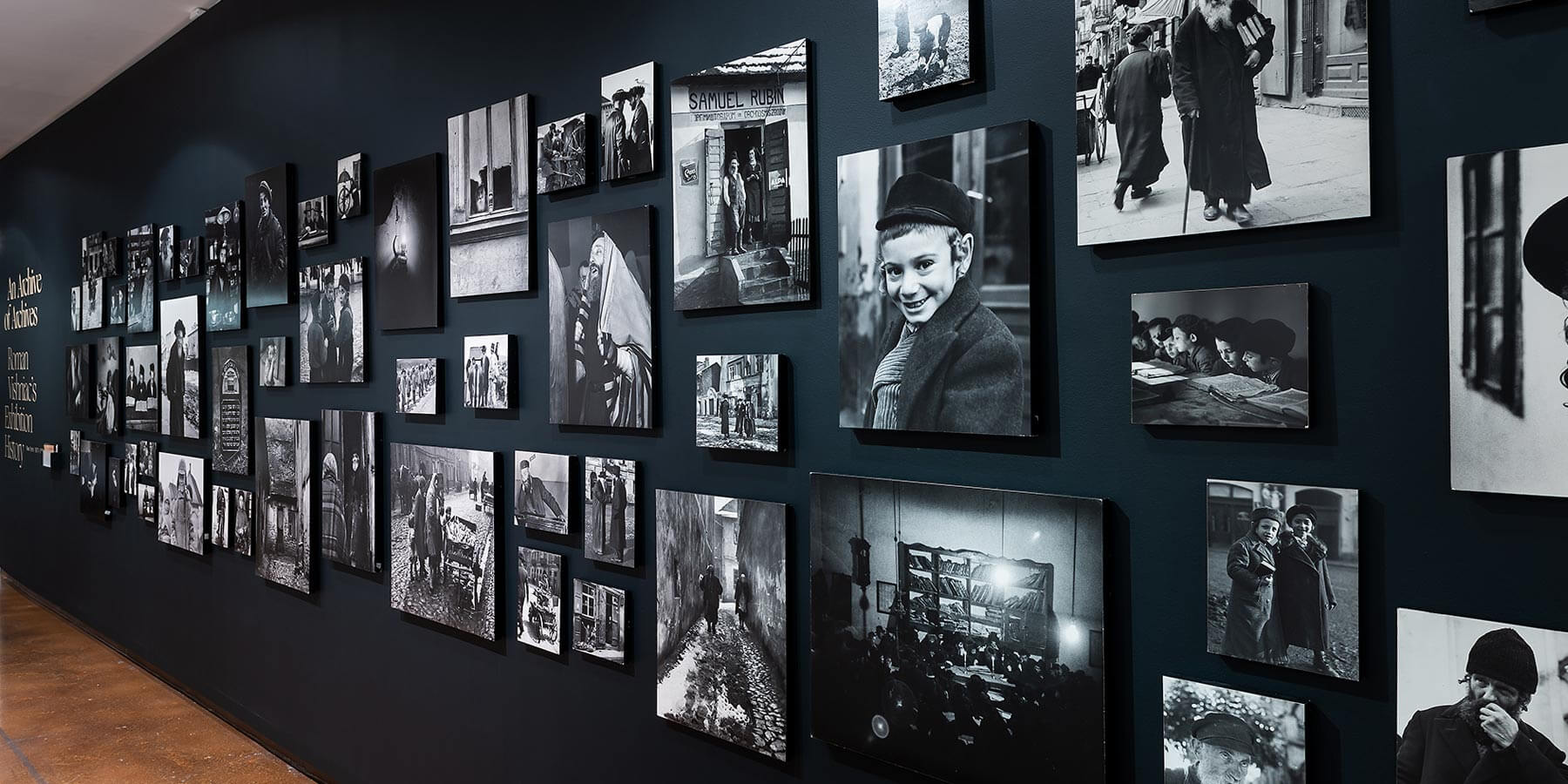 CURRENT EXHIBITION
An Archive of Archives: Roman Vishniac's Exhibition History | New York, 1971-72
On View:
Aug 29, 2023 - Dec 14, 2023
Jan 17, 2023 - May 11, 2023
Jan 28, 2020 - Dec 15, 2022
Location:
The Magnes Collection of Jewish Art and Life
2121 Allston | Berkeley , CA
The Magnes
Gallery Hours:
Tuesdays and Wednesdays 11am-4pm; Thursdays 11am-7pm
The Magnes acquired the Roman Vishniac Archive in 2018, thanks to an unprecedented gift by the late Mara Vishniac Kohn (1926-2018). The collection is comprised of thousands of original prints, negatives, and archival materials documenting the long international career of Roman Vishniac (1897-1990), a Russian-born modernist photographer most notable for documenting Eastern-European Jewish life in the years immediately preceding the Holocaust. Vishniac's work has been celebrated in exhibitions and publications since the 1940s. The gift represents one of the most important acquisitions made by The Magnes since its founding in 1962, and one of inestimable value to UC Berkeley for insight and research into 20th-century East European Jewry, and beyond.
As this important collection is being painstakingly processed and documented, The Magnes is beginning to share new findings with the public. An archive of this magnitude is bound to reveal many discoveries, opening up new perspectives on the life and work of a globally recognized photographer, and allowing us to revisit some of the salient moments in his career. A veritable "archive of archives," the collection also contains among its treasures substantial documentation of some of Vishniac's early exhibitions.
With this inaugural installation, The Magnes is sharing with the public a group of images from an exhibition originally presented at the Jewish Museum in New York (October 19, 1971, until January 23, 1972). The show later traveled to universities, libraries, art galleries, and Jewish museums in New York State, New Jersey, Washington, DC, Illinois, and California. It showcased a selection from a broader project, titled The Concerns of Roman Vishniac: Man, Nature, and Science. The original project, now lost in its entirety, had been created under the direction of Cornell Capa (1918-2008) as part of a series entitled The Concerned Photographer, under the auspices of the International Fund for Concerned Photography. The exhibition included microscopic photography, and a multimedia installation about the photographer's scientific images, along with many of Vishniac's most iconic images from Eastern Europe, which are presented here.
The Magnes Collection is currently processing the Roman Vishniac Archive. Materials from the archive are not yet available.
---
Watch curators Shir Kochavi and Francesco Spagnolo's presentation about the exhibition:
Major support for The Magnes comes from the Helzel Family Foundation, the Magnes Museum Foundation, The Magnes Leadership Circle, and the The Office of the Chancellor at the University of California, Berkeley.